What Readers Say
---
Winkie, from Oregon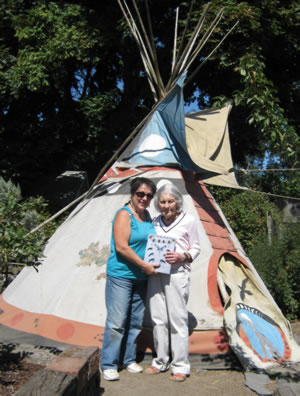 Winkie from Oregon, found Bear Walks With Me so compelling that she wanted her children and grandchildren to have a copy. "The book sells itself", she told D. Vail on a recent visit after purchasing her 10th copy of the book.
---
Albany Democrat-herald Newspaper
Bear walks With Me was reviewed in the Albany Democrat-herald newspaper Tuesday May 15th, 2012. Here is a link to the article:
book-review-bear-walks-with-me

Or view a PDF copy [ 339 kb ]
---
Nicole T. Oregon
"Bear Walks With Me" pulled me in at the first chapter and held me all the way through. read more ...
---
Irene G., Oregon
I am relishing every moment with your book, whether actually reading it or even just holding it, because your spirit fills the room every time I pick it up. Read more ...
---
Evedene B., Oregon
I am writing to tell you that I can hardly put your book down—it is such a cliff hanger. I have been up 'til midnight the last two nights before I realized what time it was.
---
John & Steph E., Oregon
Your beautiful book arrived and I sat on the couch this evening and began to read! It is absolutely captivating!!!
read more ...
---
Terri R., Montana
Holy Buckets! You are a fabulous storyteller. read more ...
---
Rebekah G., Oregon
Donna, your book is truly an inspiration. read more ...
---
David V., California
Fantastic book—I loved it! I have enclosed a check for 4 more books to send to my kids. Donna I am so proud of what you have accomplished.
---
Excerpts from the Book
Stunned upon hearing the loud shriek of a baby, the man lowered his rifle and watched the bear bound off the porch. He then ran to the end of the cabin, hoping for a clean shot, but the bear was running through the brush past the stream and disappearing into the woods. The sound of the infant's cry drew the man's attention back to the porch. Climbing up onto the porch, he walked to the buggy and peered in. Shaking his head as though in disbelief, he turned to the car, leaned his rifle against a porch pillar, and waved a frantic "come here" to his wife of forty-seven years.
---
"Donna, one day this is all going to belong to you. This ranch and everything on it, plus the hundred-and-fifty acres on top of the Blue Mountains…"
---
Just as Uncle Lance was almost to the base of the tree where I was hiding, a frightening noise that sounded like a distant rumble of thunder, filled the little clearing. Looking over to where the trail emerges from the dense forest there was a huge, and I mean really huge, black bear.
---
Somewhere in time the kiss ended and, with a shaking hand, Mike was stroking my hair. Then he said, "Donna, please be my girl. I really love you."
---
"I warned you, you piece of garbage." Esther then bellowed out at the top of her lungs like a cow with a twisted tail, "Police, help! Police! A pimp, a pimp after a young girl!"
---
My mind went wild in thought as I envisioned the cougar climbing up the back of the cliff after me. Where would I go? How could I get away?
---
What's News
---
Second Printing Available Soon
We have been asked so many times by people who do not have the book in paper form to reprint the book.
We decided to go ahead and are working at producing a second printing of Bear Walks With Me.
Use the Contact Us form to indicate your interest.
We will let you know when the book will be available.
---
Donna Vail begins work on a sequel to "Bear Walks With Me".
Tentatively titled, "Bear Walks With Us", the sequel will begin where Bear Walks With Me left off.
Use the Contact Us tab to reserve your copy.
---
Read the first chapter of Bear Walks With Me
---
Become a fan!
Visit D. Vail's Facebook page.
Then, be sure to share Bear Walks With Me with your friends.