What Readers Say
---
Winkie, from Oregon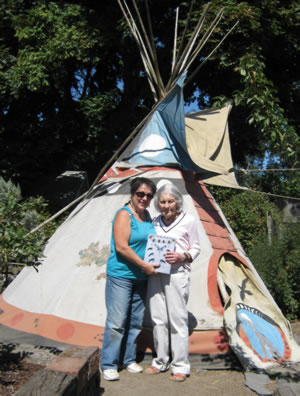 Winkie from Oregon, found Bear Walks With Me so compelling that she wanted her children and grandchildren to have a copy. "The book sells itself", she told D. Vail on a recent visit after purchasing her 10th copy of the book.
---
Albany Democrat-herald Newspaper
Bear walks With Me was reviewed in the Albany Democrat-herald newspaper Tuesday May 15th, 2012. Here is a link to the article:
book-review-bear-walks-with-me

Or view a PDF copy [ 339 kb ]
---
Nicole T. Oregon
"Bear Walks With Me" pulled me in at the first chapter and held me all the way through. I was fully intending to save it for my vacation, but ended up staying up late several work nights in a row because I just couldn't let it go!

As a volunteer in the community I intend to use your experience as a powerful, uplifting lesson in, not just survival, but joy in life itself. Thank you so much for sharing your life and strength with all of us!!
---
Irene G., Oregon
I am relishing every moment with your book, whether actually reading it or even just holding it, because your spirit fills the room every time I pick it up.
Bear Walks With Me has become a conversation piece in our office. So I won't be surprised when your website receives some attention from the visitors to our office.
---
Evedene B., Oregon
I am writing to tell you that I can hardly put your book down—it is such a cliff hanger. I have been up 'til midnight the last two nights before I realized what time it was.
---
John & Steph E., Oregon
Your beautiful book arrived and I sat on the couch this evening and began to read! It is absolutely captivating!!! and to think that I personally know the person of whom the book speaks. What a tremendous accomplishment. I can only imagine the sense of peace and joy you must feel when you hold the book you authored in your hands, the story of your very own life, in your hands.
I'll enter your world a little each day now and savor the descriptions you offer of the landscape, as well as of the people who passed through your life, both positive and negative. (I can hear the babbling sound of the stream tumbling over the rocks and the serenade of the frogs.)
---
Terri R., Montana
Holy Buckets! You are a fabulous storyteller. I could not put the book down. It is a page turner. Your courage and wisdom are incredible. I have many questions and want to know if a sequel is in the works.
---
Rebekah G., Oregon
Donna, your book is truly an inspiration. I'm not through it yet, but I have a hard time putting it down whenever I get the chance to read. I get so proud every time someone sees the book at work and comments on the beautiful cover and I get to tell them I know the author personally.
---
David V., California
Fantastic book—I loved it! I have enclosed a check for 4 more books to send to my kids. Donna I am so proud of what you have accomplished.
---